Cast-Designer Weld
The unique solution for complex large welding and assembly process, with full chain solution from the material →to process design →to simulation →to production and automatic optimization from welding parameters and assembly sequence
CAST-DESIGNER WELD OVERVIEW
Cast-Designer WELD from C3P Engineering Software International Co., LTD. is the leading solution for the design, simulation and optimization of welding and welding assembly process, while taking into account all factors of design geometry, material behavior and welding process parameters.
Cast-Designer WELD is practice-oriented, fast and easy to use. The user can focus on the engineering related details of the welding process instead of dealing with the software operation.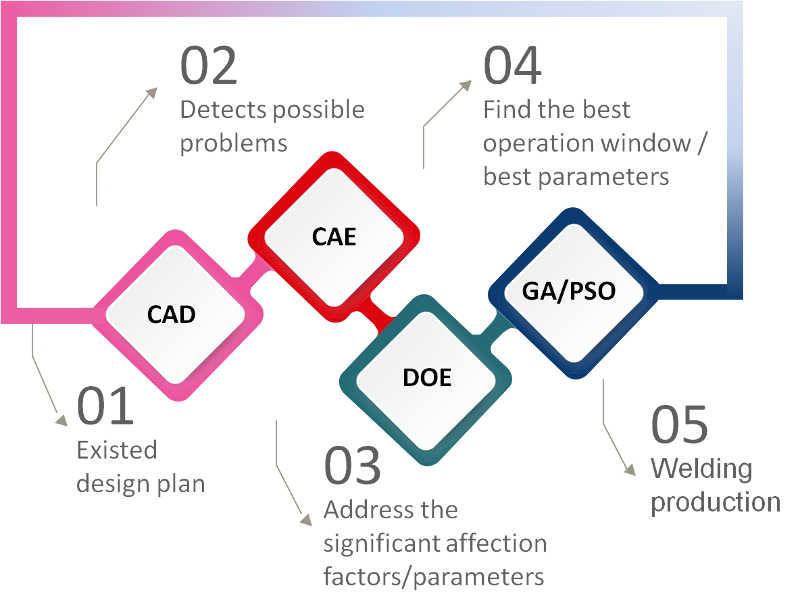 An intuitive, quick & easy graphical user interface
Design driven simulation
Automatic mesh generation
Template style model setup
Available for almost welding process
Unmatched accuracy
Weld distortion is the most frequent problem in welding applications and many techniques have been developed over time to mitigate distortion or in some case achieve zero distortion. Simple techniques like tack welding and fixturing can now be optimized using welding models that reliably predict distortion. Furthermore, simulation and modeling enables the designer to optimize complex methods like pre-offset, side heating, trail cooling, or more advanced techniques including adaptive clamping and process control.
Residual stress affects the service life and condition of weldment during course of service if it doesn't introduce immediate problems during the manufacturing process. Weld modeling is the most cost effective method to generate a 3D map of all stress components during and after welding as well as interaction with operation loading condition for fatigue and creep analysis. This leads to optimal design for enhancing service life and can avoid further cost of rejected parts from service.
It is crucial to master the Heat Affected Zone (HAZ). This sensitive zone is usually quite narrow to minimize stresses and deformations.
Cast-Designer WELD simulates the welding with addition of material, the shape of the weld bead becomes a true result of the simulation.
Cast-Designer WELD helps to optimize part geometry and process parameters during the early stages of a new design cycle avoiding expensive engineering changes.
Cast-Designer WELD allows user-defined weld sequencing and control of the weld manufacturing parameters such as energy input, weld speed, weld material and many others.
Welding Processes
Arc welding (TIG/MIG/MAG …)
Laser welding
Friction Stir Welding
Electron-beam
Resistance spot welding
Brazing
Additive manufacturing
…
Analysis Results
Temperature field
Heating & cooling rate
Metal flow
Distortions
Stresses
Yield stress of the material
Plastic strain
Stress relief
Weld pool porosity
…
Key benefits
Best-in-class result accuracy & stability
Understand the effects of welding on your valuable infrastructure prior to welding
Optimize weld sequencing to reduce effects of distortion
Predict microstructure evolution and resulting mechanical properties
Obtain realistic thermal models for the dynamic process of welding
Cost optimized
…