Investment Casting
For high temperature process like investment casting, the heat radiation must be considered in the simulation. The affection of shell and enclosure is important in radiation calculation, it must be modelled. View factor and shadow factor may change the solidification and porosity results.
ENCLOSURE, RADIATION & VIEW/SHADOW FACTOR
Even if no physical enclosure, the factory roof and wall is also a big enclosure.
Due to the casting & gating geometry, somewhere will be shadow region for radiation simulation, so the solidification speed or cooling rate will be affected.
The solidification time also affected by radiation.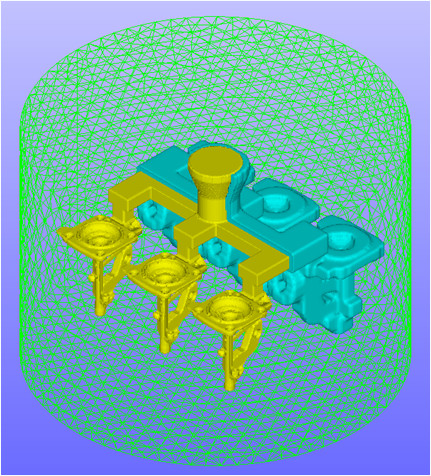 Radiation Effect in Enclosure
Flow simulation of investment casting
Solidification of investment casting
GATING DESIGN ADVISOR
Cast-Designer is the sole system to guide investment casting system design in the market today
The gating system designer could design any complex casting system in full parametric method
Built-in knowledge base to assist the designer
Riser, inner gate, runner, sprue runner and chill design, build in main tree type.
Supports user defined template, flexible import and export template.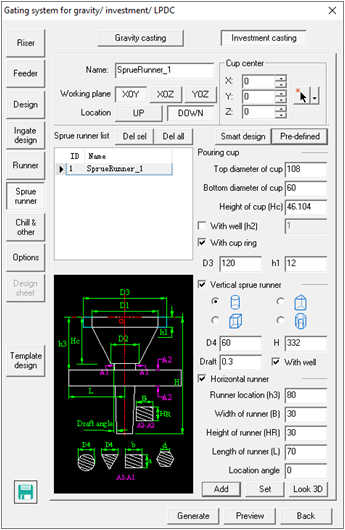 Gating Design Advisor for investment casting
AUTOMATIC SHELL GENERATION
Cast-Designer's automatic shell generation capability is very useful since the casting shell is very important for heat transfer, radiation and solidification in the investment casting process.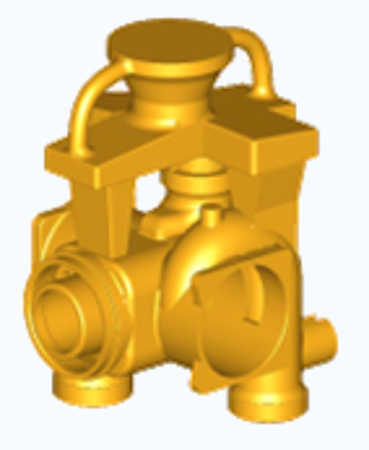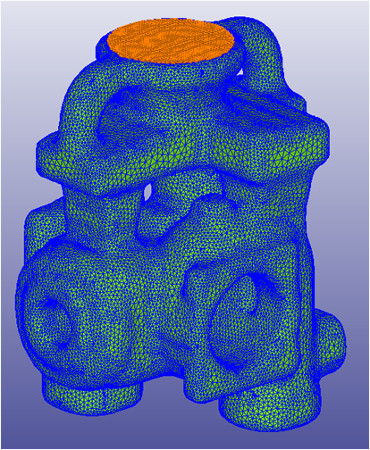 Mesh for Casting and Shell
DEWAX ANALYSIS
Dewax function checks the casting geometry and identifies potential regions which could cause dewax issues. A casting system with good dewax design can improve the product quality and save energy.
Regions with dewax problem
SMART RUNNER TREE ORGANISOR
Smart Tree Organiser created assembly
INVESTMENT CASTING DESIGN & SIMULATION WORK FLOW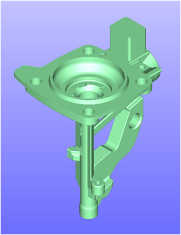 Step 1: Analyze the casting part, check the MDI & HDI, define the position and size of inner gate
Step 2: As the weight and numbers of the casting part to select the main tree in the smart design tools which is based on KBE
Step 3: Generate the main tree and part layout
Step 4: Dewax checking and adjustment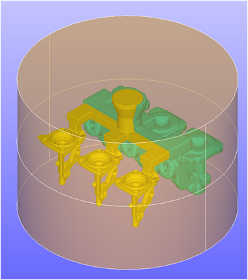 Step 5: Shell generation and CAE analysis modeling
Step 6: CAE simulation result of flow
Step 7: CAE simulation result of shrinkage porosity
Original design: The old design with serious porosity problem.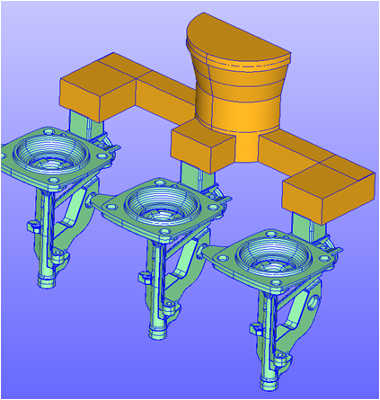 Revised design: The revised design plan in Cast-Designer which save 38% of yield ratio, and the shrinkage porosity is much better than the old plan.