AI-FORM OVERVIEW
AI-FORM from C3P Engineering Software International Co., LTD. is the first AI base interactive multi-objective optimization commercial software in the market today directly applied to sheet metal forming. The software specially designed for the sheet metal forming business and having more than 20 years of industry experience, provides an end-to-end solution for stamping industry, ranging from 3D part DFM analysis, quotation, blank sheet engineering, step-by-step guidance in die face design, KBE, advanced FEM simulations and AI-based automatic optimization.
With the development of industrial, stamping products and production process becomes more and more complex. At the same time, CAD and CAE technology are also widely used in all industrial segments. The rapid development of computer system in hardware and software greatly reduces the simulation time, such as parallel computing technology. Therefore, seeking the best solution and improving design has become the next hot topic.
With the geometrically driven technology, multiple design alternatives can be automatically evaluated, which significantly shortens the product design cycle and significantly improves product quality and reliability.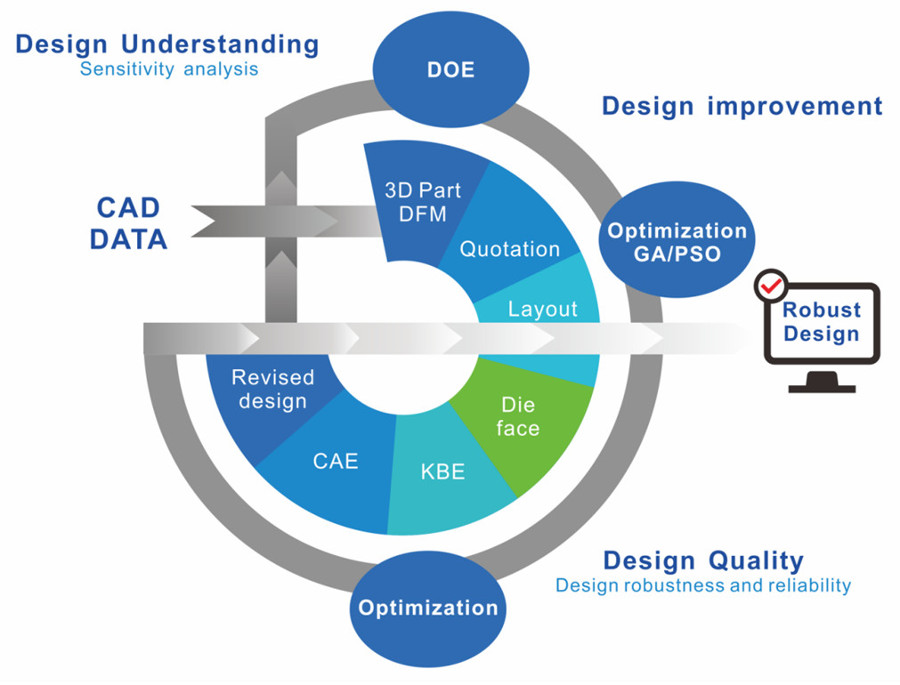 TECHNOLOGY
Geometry-driven optimization
Fully automatic mesh generation
Fully automatic CAE model setup
All parameters could be optimized
METHOD
Base on the last AI technology
Support multi-objective optimization
Rich tools for optimization result analysis
Coordinate parallel plot analysis
User formula for condition and result
APPLICATION
Support all stamping process
No programming required
No optimization theory required
Suitable for all engineers and designers
CAD Driven Optimization
There are so many parametric designs CAD software in the market, but few can be driven by the optimization system. On the other hand, the CAD and CAE systems tend to be independent of each other and only interact through basic and incomplete data interfaces in low efficiency. However, without CAD driven function, an optimization project is not real optimization. With the built-in ParaCAD system, AI-FORM can optimize any CAD variable, any component and any CAD geometry in the same user environment.
Optimization Parameters Setup
The optimization parameters setting is very smart in AI-FORM. With a unique technology called 'Equivalent Input', the optimized parameters could be input in the formal input box without a special interface. In this case, any parameter and variable could be optimized. This innovation greatly expands the application field of artificial intelligence technology in stamping and eliminates the limitation of traditional software that only a few parameters could be optimized.