Design for Manufacturing (DFM)
AI-Form DFM is the most powerful upfront Design for Manufacturing (DFM) tool used by designers and manufacturing engineers with innovative technology. DFM Analysis is the FIRST STEP for stamping part manufacturing. It is a bridge to link the part designer and the manufacturing suppliers.
FIND CRITICAL REGION! IN 3 CLICKS, 3 MINUTES!
Find the critical region in stamping formability and respond to RFQ quickly!!
AI-FORM DFM FEATURES & APPLICATIONS
Build in last CAE technology for geometric front analysis
The user can check the stamping formability on a complete model and provide the result for formability contour by the geometry, location and Formability Difficult level Index (FDI).
The formability difficult level index can guide the stamping process and mould design directly, such as the stage numbers for a complex drawing.
When combining the function of mesh morphing and mesh smoothing, the user can design the middle pre-form geometry easily.
Advanced visualization for easy interpretation of results
Parameters to adjust the FDI formula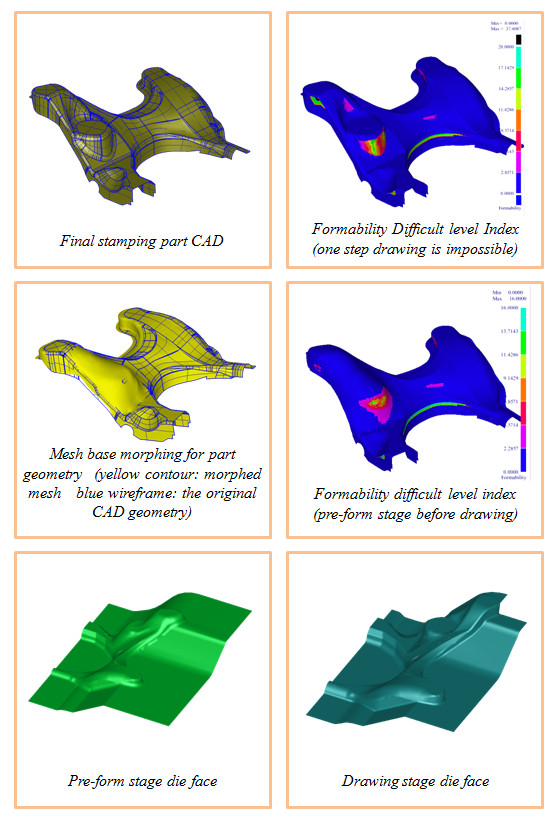 The AI-FORM DFM function can check the critical region of the stamping part quickly and easily, with the support of mesh morphing and smoothing; then the user can design the middle pre-form stage easily.