C3P Software Released Cast-Designer V7.3
Posted by admin on Apr 2, 2018 in C3P News
【Guangzhou – 3rd April, 2018】– C3P Software, a pioneer supplier of CAX & PLM solution for industrial manufacturing processes, we're excited to introduce the newest version of our cast design, simulation and optimization software- Cast-Designer V7.3.
Designed to help the casting industry overcome the most difficult manufacturing challenges, Cast-Designer V7.3 provides users with more flexible design capabilities, more powerful simulation capabilities and notable performance improvements to increase the reliability of numerical simulation results. Cast-Designer V7.3 empowers users to reach a new level of efficiency and reliability in cast simulation, and to create highly productive design-to-analysis workflows to accelerate the pace of product innovations.
SavingCAST
As the first step to casting material, SavingCAST is used for determination of the optimum structure of metal charge components for melting foundry alloys. With the release in Cast-Designer V7.2, SavingCAST has brought big success already. In Cast-Designer V7.3, the functions of SavingCAST are enhanced continue, special for the parallel coordinate analysis method, it could be used to detect the best charging plan with the balance of cost and mechanical performance.
Gating System Design
In Cast-Designer V7.3, the gravity casting design wizard has been re-written with the last research achievements, the design wizard for low pressure die casting process is also available.
A very powerful riser design tool – Smart Riser is available. With this tool, anybody can make riser/ feeder design in a few minutes for any casting part. The Smart Riser could consider the casting geometry features, casting alloy, feeder distance and contact gate type of casting and feeder.
The free design function of gating system has been improved also. The 3D gating system function becomes more flexible, some other functions like reverse engineering of existed gating, 3D slider and core projection for complex 3D runners are also improved.
Pre-define setup template and dual solvers:
The CPI setup process has been simplified lots thanks the pre-define template. Such function has been re-written and becomes much powerful and flexible than before. The contact interface of objects could be searched automatically and regenerated, the system object numbers o could be different from the pre-defined template file also.
Now, the new generation CFD solver is full function, and couple to FEM solver for both temperature and flow pattern. Cast-Designer is the sole commercial software in the market to use dual solver technology, the advance CFD solver in FVM technology could be used for complex flow/thermal simulation and the FEM solver could be used for flow/thermal/stress/microstructure simulation.
Core gas, salt core and buoyancy driven flow also could be simulated in Cast-Designer V7.3.
Automatic Optimization:
The applications of Cast-Designer optimization had been enhanced to meet the industrial requirement, the DOE and GA optimization could be applied to all casting processes. Thanks to the innovation technology of Cast-Designer, such optimization could be applied to geometry parameters, material parameters, boundary condition parameters and the simulation control parameters. It is unique in the market.
Cast-Designer optimizer is the software for multi-criteria nonlinear optimization in the last Taguchi method and EA MOO technology. The runs of simulation could be reduced to a very low level. The parallel automatic optimization is a breakthrough technology which can speed up 5 to 10 times of the lead time of the optimization. With such innovations, an optimization could be done within one day.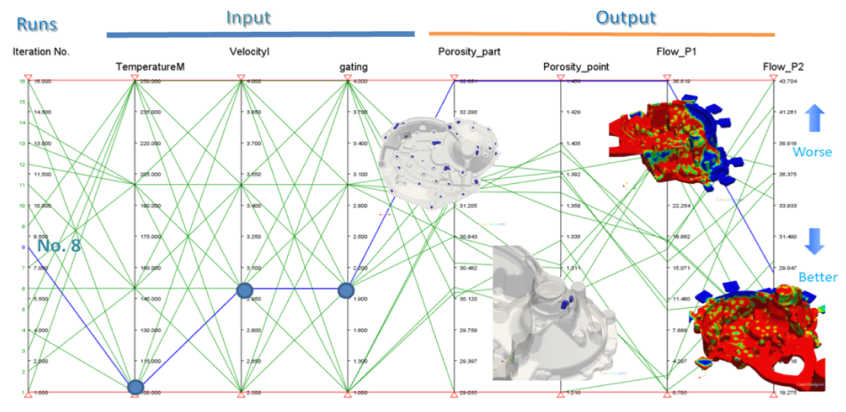 Cast-Designer optimization for the metal flow and porosity prediction
About C3P Software
C3P Software has been providing the professional design & analysis solution for the manufacturing industry since 2006, and the current product "Cast-Designer", "Cast-Designer Weld" " Geo-Designer", " AI-FORM", " SavingCAST" are marketed worldwide. With the combination of software development, advanced analysis, extensive product development experience, and cost-effective human resources, C3P Software provides industry and manufacturing business with comprehensive solutions and engineering services on a global basis to meet their expectation in high quality, on-schedule delivery within cost target. Our business scope covers software development, professional engineering service, and application software integration. For further information, please visit: http://www.c3p-group.com or http://www.cast-designer.com